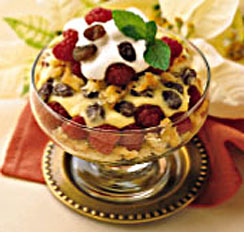 So versatile, you Start the day with a parfait...raisins, fresh fruit, light, easy-to-make orange-raisin cream cheese and crunchy granola layered in your favorite stemmed glasses. It's a healthful and easy-to-make breakfast!

Ingredients


1 cup Natural Raisins
4 tablespoons orange juice divided
2 teaspoons vanilla extract
2 tablespoons sugar
1 tub (12-oz.) softened light or fat free cream cheese
2 cups chopped fresh berries and
peaches *
1/2 cup low-fat granola
Directions:In microwave-safe bowl, COMBINE raisins, 1 tablespoon orange juice and vanilla.
COVER and microwave on HIGH (100%) for 45 seconds; let stand one minute to plump raisins.
REMOVE 1/4 cup raisins for garnish.
ADD sugar and remaining 3 tablespoons of orange juice to raisins in bowl; stir to dissolve sugar.
In medium bowl, WHISK cream cheese until smooth.
STIR in raisin mixture and blend well. Remove 1/4 cup for garnish.
LAYER in four tall wine or parfait glasses in the following order: raisin cream cheese mixture, chopped fruit, granola; repeat layers of cream cheese mixture and fruit.
GARNISH with a dollop of cream cheese mixture and sprinkle with raisins.

*Thawed, frozen fruits may be used.


Per Serving: Calories 410; Protein 10g; Fat 14g; Carbohydrates 60g; Sodium 433 mg; Dietary Fiber 4g; Cholesterol 40mg.

Makes 4 servings.