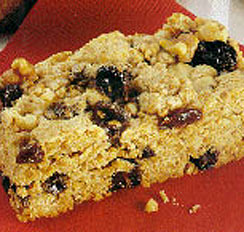 Individually wrapped and stored, these bars are the perfect "portable" breakfast in the car or on the bus. Great for after-school snacks, too.

Ingredients


3/4 cup all-purpose flour
3/4 cup toasted wheat germ
1/4 cup sugar
1/2 teaspoon baking powder
1/2 teaspoon cinnamon
1/4 cup butter or margarine melted
1/4 cup honey
1 egg
1/2 teaspoon vanilla extract
1 cup Natural Raisins
1/2 cup chopped walnuts
Directions:


HEAT oven to 350 F.
GREASE an 8-inch square pan.
COMBINE flour, wheat germ, sugar, baking powder and cinnamon.
STIR in butter, honey, egg and vanilla; mix well.
STIR in raisins and walnuts.
PRESS mixture firmly into greased pan.
BAKE at 350 F for 20 to 25 minutes or until lightly browned.

Makes 10 bars.