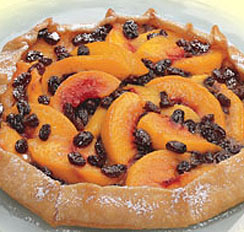 A gallette is a rustic Italian dessert made with a freeform crust and filled with fruit. The option of using fresh apples or peaches or frozen peaches and ready-made pie dough make this recipe easy to do anytime of year.

Ingredients


1 cup Natural Raisins
1/2 cup sugar
2 tablespoons all-purpose flour
1/2 teaspoon ground cinnamon
1/4 teaspoon salt
4 cups (4 to 6 medium) peeled, chopped tart apples or fresh sliced peaches or 1 package (16-oz.) frozen sliced peaches
1 tablespoon lemon juice
1 9-inch unbaked pie dough round or shell


Directions:

HEAT oven to 425 F.
COMBINE raisins, sugar, flour, cinnamon, and salt.
MIX with apples and lemon juice.
PLACE 9-inch round pie dough on a rimmed baking sheet.
MOUND fruit in center of dough, leaving a 1-2 inch border.
FOLD dough up around fruit, gently pleating and pressing dough against fruit.
BAKE 10 minutes at 425 F; reduce temperature to 350 F and bake 20 to 25 minutes until crust is golden brown. Juices may seep out onto pan. Cool on pan.
With a large spatula, carefully TRANSFER gallette to a platter and dust with powdered sugar before serving.