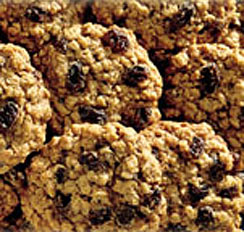 Raisin oatmeal cookies are one of the most popular cookies in America. This all-time favorite is easy to make and is a fun activity to do with kids.


Preparation time: About 10 minutes
Baking time: 15 minutes


Ingredients


3/4 cup softened butter or margarine
1 cup packed brown sugar
1/2 cup sugar
1/4 cup milk
1 large egg
1 teaspoon vanilla extract
1 cup all-purpose flour
1 teaspoon ground cinnamon
1/2 teaspoon baking soda
1/4 teaspoon salt
3 cups quick or old-fashioned oats
1 cup Natural Raisins
1 cup coarsly chopped walnuts (optional)

Directions:


HEAT oven to 350 F.
BEAT butter, brown sugar, granulated sugar, milk, egg and vanilla until light and fluffy.
COMBINE flour, cinnamon, baking soda and salt.
ADD to butter mixture and mix well.
STIR in oats and raisins. Drop by tablespoonfuls onto greased cookie sheets.
BAKE 12 to 15 minutes. Remove from cookie sheets.
COOL on wire racks.

Makes 3 dozen cookies.