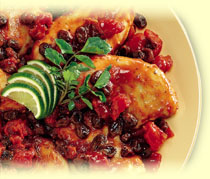 Ingredients


1 tablespoon olive oil
1 1/2 pounds boneless, skinless chicken breasts
1 can (14.5-oz.) diced tomato
3/4 cup Natural Raisins
3 tablespoons lemon juice
3 tablespoons packed brown sugar
2 teaspoons grated fresh ginger or 1/2 teaspoon dried ginger
1/4 teaspoon cinnamon
1/4 teaspoon black pepper


Directions:

HEAT oil in a large skillet over medium-high heat.
BROWN chicken breasts 3 minutes on each side. Remove from pan and set aside.
TO SKILLET, add tomatoes, raisins, lemon juice, brown sugar, ginger, cinnamon and pepper.

BRING to a boil, reduce heat and simmer 3-5 minutes or until slightly reduced.
ADD chicken breasts to pan. Cover and simmer 10-15 minutes until chicken is cooked through.

Makes 4 to 6 servings.