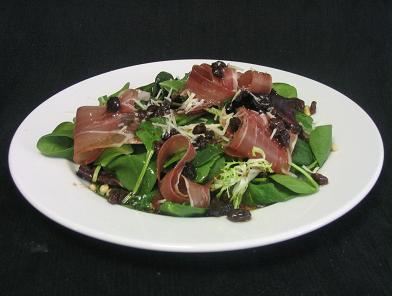 SALAD

Ingredients


1 bag (5 oz.) spinach
8 slices prosciutto
4 tablespoons shredded parmesan cheese
4 tablespoons pine nuts

RAISIN VINAIGRETTE:1/2 cup of your favorite Balsamic vinaigrette dressing
1 tablespoon brown sugar
1/2 cup Raisins

WHISK

together dressing, brown sugar and raisins in a small mixing bowl. Set aside.
ARRANGE 1/4 of a bag of spinach on a serving plate. Top with 2 slices of proscuitto, 1 tablespoon parmesan cheese and 1 tablespoon pine nuts. Repeat to make 4 salads.
DRIZZLE

2 tablespoons of raisin vinaigrette over each salad.

Makes 4 servings.