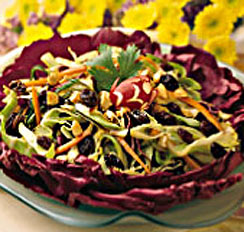 Ingredients


3 tablespoons rice vinegar
2 tablespoons soy sauce
1 tablespoon dark sesame oil
1/4 teaspoon crushed red pepper flakes
4 cups (8-oz.) packaged coleslaw mix (shredded fresh cabbage & carrots)
1/2 cup Natural Raisins
1/3 cup thinly sliced green onions
1/4 cup peanuts or Chopped cashews (optional)


Directions:

COMBINE vinegar, soy sauce, sesame oil, and pepper flakes. Mix well.
ADD coleslaw mix, raisins, and green onions. Toss well.
CHILL at least 1 hour or up to 24 hours before serving. Sprinkle with peanuts, if desired

Makes 4 servings.